Brainstorming Training for a Culture of Innovation
Learn brainstorming facilitation, techniques & activities
"Idea generation by design" online workshop series for facilitators, consultants, & organization leaders
Brainstorming Facilitation Training
Do you have a best practice system of activities for brainstorming on your own and with others so that you can continually generate ideas and solutions?
Do you contribute to a sustainable culture of innovation and facilitate collaboration so that others may generate ideas for new products, services, marketing, and organizational improvement?
Create new products, services, marketing campaigns and innovate your organization with brainstorming! Learn how to develop and facilitate brainstorming sessions and events that will generate hope & enthusiasm amongst your colleagues and create new innovations!
Get brainstorming systems and activities to apply to your organization right away
• Use BrainReactions' idea-generation process developed from training professional brainstormers and conducting hundreds of innovation sessions

BrainReactions has worked with the most innovative companies in the world. We learned from their methods of idea generation, but we have also developed our own toolset that increases brainstormer productivity by 200-300%!Four Part Online Workshop Overview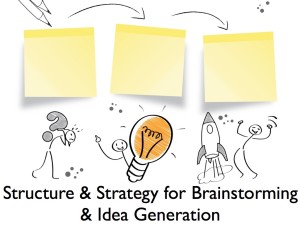 Part 1. Structure and Strategy for Brainstorming: Brainstorming should be based on a sound process with catalyzing questions that address challenges you have. This workshop will guide you through activities to set up your own brainstorming program. We will provide you with a simple step-by-step system of activities to use for your own challenge and show you examples of products and organizational programs developed from this process.
• Gain a simple and systematic process for structuring your brainstorming strategy.
• Formulate organized questions to generate more ideas.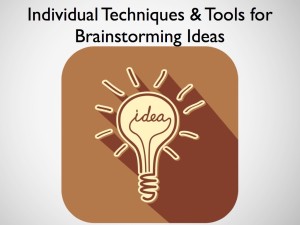 Part 2. Individual techniques and tools for brainstorming: Break out of ruts, generate more ideas, or think in new directions with ideation tools and techniques for individual brainstormers.
• Applying individual idea generating tools & techniques
• Facilitating group idea generating tools & techniques
• Training brainstormers in using thinking tools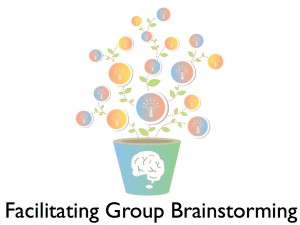 Part 3. Facilitating brainstorming with groups: Enable your team of brainstormers to generate hundreds of ideas per hour and zero in on the best concepts to develop further. Learn how to bring the best team of thinkers to the table.
• How to prepare for the brainstorming session
• How to stimulate new ideas
• How to select the best brainstormers
• How to engage the group in idea analysis and synthesis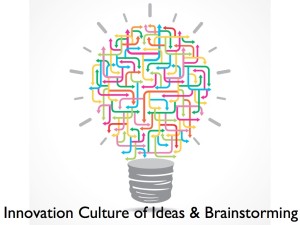 Part 4. The role of brainstorming in sustaining an organizational culture of innovation:
How can brainstorming in individuals and groups be catalyzed and sustained in an organization so that it contributes positively to the culture of innovation the organization is seeking?
• Implementing ongoing brainstorming initiatives
• Launching brainstorming events
• Assessing and engaging employees
• Idea connection matrix demo with the culture of innovation challenge
Part 5. Brainstorming in Action

• Listen to a real fast-paced brainstorming session that generated hundreds of ideas
• See a report of the ideas to analyze and synthesize
Part 6. Prototyping a Remote Online Whiteboarding Group Brainstorming Session

• Learn how to run an "ideation expedition" in relation to a remote online brainstorming session
• Learn about powerful online meeting and collaborative whiteboarding tools you can use
• See a real training video that participants receive before the session
• Learn about prototyping your own brainstorming session using technologies and activities you've never done before
• Watch the recording of a full 1.5 hour remote brainstorming design thinking session

Brainstorming Training
WHEN
On Demand
: Watch training videos at your convenience. Each  of the 4 workshops lasts 1-1.5 hours.
Brainstorming Activities
WHERE
Online from your own computer. You will be emailed a link to access the online program.
Brainstorming Techniques
WHAT YOU GAIN:

• Tools and learning to be a better brainstormer, facilitator, designer, and leader
• Numerous ideas for the topic you choose
• Activities to create questions, generate ideas, and use a toolset of techniques and strategies for creative thinking.
Brainstorming Innovation
BONUS DELIVERABLES:
• All training materials used in the webinar
• Audio of additional training and brainstorming sessions
• Brainstorm report with hundreds of creativity education ideas
• Innovation Step-by-Step eBook & Idea Development Worksheets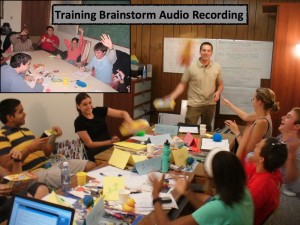 PRICE
$397 per Participant, or
$1,997 per Group (up to 10 people from one organization)
Individuals can enroll and begin our brainstorming training online program online today. Contact us for access for groups.
Email [email protected] for larger group discounts or to share more background for other training recommendations.
Want on-site events?

To bring our training and facilitation to your organization, please E-mail
Dr. Darin Eich, Ph. D.
Brainstorming Training: Techniques, Activities, Facilitation & Design
Your Facilitator & Trainer: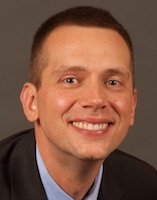 Darin Eich, Ph.D.
Founder, Innovation Learning & BrainReactions
Your innovation facilitator, Darin Eich, is the author of 
Innovation Step-by-Step
 and 
Root Down & Branch Out: Best Practices for Leadership Development Programs
.  Darin earned his Ph.D. in from the University of Wisconsin. Darin is the president and co-founder of 
InnovationTraining.org
and BrainReactions, an innovation consulting company founded by UW students, where he led idea development and innovation projects for organizations like P&G, the United Nations, and the U.S. Council on Competitiveness.Darin's passion involves helping people to become themselves, find and live their strengths, and become more creative, innovative and successful leaders. Professionally, Darin does projects ranging from hundreds of speeches to helping institutions develop leadership programs & retreats to facilitating professional brainstorm innovation sessions for the most innovative Fortune 500 companies. Darin lives in Madison and is a consultant to Dartmouth College, the University of Wisconsin, and USA TODAY.